Free Showers at Waiheke Radio on this week's Saturday Breakfast Show
Written by Chris on February 18, 2013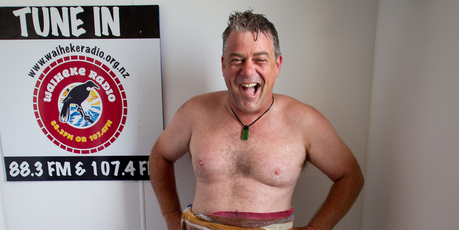 Photo: NZ Herald
| | |
| --- | --- |
| As part of this week's Saturday Breakfast Show on Waiheke Radio co-hosts Simon & El are offering Free Showers to everyone in the community between 8am-10am, and looking at the 'no rain for 10 days' weather forecast, for some of us it might well be worth taking up! | |
Co-host Simon said "basically we realised that most of the island is being hugely effected by the current water shortage and so we thought we would do our bit for the community" and that's exactly what they're doing. They're asking people to book by email beforehand and to bring their own soap and towel.
Simon added "obviously we'll have a bit of fun in the process. If anyone wants to come on-air and chat about their 'lack of water woes' then that's great but it's not obligatory'. El jokingly suggested that "a preference would obviously be given to 'young South American females'".
So if you're really short of water and in need of some quality shower time with some locally sourced, council owned water then (to book) please email simon@waihekeradio.org.nz with your name and contact details and Simon will return an email by Friday 8pm with a shower-appointment time, all courtesy of Waiheke Radio, 4 Korora Rd, Oneroa.

---